Concert 3
Keys in Space | new works for piano
Sept. 4 | 5:20p | Milstein Hall, Crit Dome
HereNowHear (Ryan McCullough & Andrew Zhou)
Aida Shirazi |RAGE: Screamed, RAGE: Stolen, RAGE: Silenced (2020)
Laura Cetilia | sense of missing (2020/2021)
Both works are commissions funded by the Cornell Center for Historical Keyboards.
We welcome audience members to walk about quietly during Laura Cetilia's sense of missing and to listen to the unfolding of the work in different locations of the hall. (Shoes may be removed if you wish.)
Sept. 5 | 5:20p | Milstein Hall, Crit Dome
Fallingwater: Thomas Feng, Thomas Reeves, Richard Valitutto
Ann Southam | Commotion Creek (2007)
Thomas Reeves | Fallingwater (2020)
Richard Valitutto | harvest moon meditation (2021)
Program notes
Sep 4 | HereNowHear
Aida Shirazi | RAGE: Screamed, RAGE: Stolen, RAGE: Silenced
This is a love letter to those whose raised voices are silenced or hijacked. In 2020, a year that does not seem to leave us alone, many felt enraged and frustrated, but also voiceless and perhaps paralyzed.
It might sound an overly romanticized idea, but I believe the collective expression of frustration and rage towards imperfections can lead to positive change.
The sound produced by the muted strings is a murmur that symbolizes rage and frustration. It swells and contracts quietly and goes through interruptions. Even when silenced, the residues of rage linger in the space until they rebound.
The most immediate reference to Beethoven's "Rage Over a Lost Penny (Alla ungherese)" [the original basis for this commission from HereNowHear] appears almost halfway through the piece, where the opening motif appears in a segmented, modified, and dispersed manner.
Laura Cetilia | sense of missing
when writing sense of missing, instead of focusing on the idea of rage over loss (despite there being so much to be furious about these days—the loss of life through racial injustices or the loss of human connection due to the pandemic), i wanted to convey the co-presence of yearning to hold what we do not have along with the tolerance of loss.
we all search for what we feel is missing in our lives in our own way, at our own pace. the "unison" isorhythm articulated by soft gong-like sounds (created through penny preparations inside the pianos) provides a tenuous but continuous substructure for two contrasting melodic cells (one ascending, the other descending) to float within. each cell is played at slightly different tempi and are uncoordinated between the performers, mirroring how two separated people may drift towards, away, alongside each other throughout their lives despite their binding desire to be reunited.
HereNowHear performs Aida Shirazi (@ 11:26) and Laura Cetilia (@ 26:32).
Ann Southam | Commotion Creek
Following the critical and public success of "Rivers", Ann Southam wrote a series of "Creeks" for Christina Petrowska Quilico. These pieces are virtuosic in nature and focus on the pianist's left- hand flexibility. The music is fast-moving and consists of repeating and changing patterns of notes. These patterns overlap and interact producing small rhythmic and melodic motifs within the texture of the music. Such motifs are not indicated but are left to the performer to "find". Considerable freedom is given to the performer in terms of tempo, dynamics and pedaling.
Christina Petrowska Quillico
Thomas Reeves | Fallingwater
In the summer of 2013, I visited Fallingwater, a house built over a waterfall in rural Pennsylvania designed by American architect Frank Lloyd Wright in 1935. The harmony of the human architecture with its environment inspired me, and I wanted to try exploring it in the piano itself. My piece depicts the cantilevers, rocks, and waterfalls as the house and its environment change throughout the seasons. It ends with "the music of the stream" (in Wright's words).
Thomas Reeves
Richard Valitutto |harvest moon meditation
harvest moon combines gently-used elements from two previous works i had composed some time ago: Zazen (2010) for any number of melodicas, and as above so below (2014) for piano solo. In addition to the musical materials themselves, harvest moons meditation blends the conceptual identities of those pieces: it is an ambient, sonic meditation on lunar cycles, seasonal transitions, and the acceptance of what is through change—a humble exploration of tuning, timbre, space, and materiality. The two pianists perform recycled snippets from the piano solo in an antiphonal setting—one player taking the keyboard material and the other performing the bass string harmonics material—while a single melodica player performs one part of the melodica piece with a backing track of about a dozen other iterations of the same, indeterminate work.
Richard Valitutto
About the artists
HereNowHear
Founded in 2016, HereNowHear consists of pianists Ryan MacEvoy McCullough and Andrew Zhou, who first met at Tanglewood and subsequently at Cornell University, founded to perform Stockhausen's epic work MANTRA for two pianos and electronics. Bringing together two compelling and dedicated performers of new works, the ensemble regards itself as a laboratory for compositional experimentation moved by a digitally autonomous (re)build-it-yourself spirit. Its core mission is to reinvigorate the repertoire for two pianists (+ collaborators) through commissioning, scholarly, and educational projects involving close, committed collaborations with composers, using traditional instruments to activate new sonic paradigms. The ensemble has received coachings from Stockhausen "favorites" Benjamin Kobler and Ellen Corver, as well as Pierre Laurent-Aimard and Tamara Stefanovich. They have appeared as a featured group at Northwestern University's NUNC3! Festival, Washington University in St. Louis, the Vanguard New Music Series (Kent, OH), the Stockhausen Courses (Kürten, Germany), and Kettle Corn New Music in New York City. The ensemble has commissioned and collaborated on new works from composers Christopher Stark, Loren Loiacono, Aida Shirazi, Christopher Castro, Laura Cetilia, Yi-Wei Angus Lee, Dante de Silva, and LJ White, and was recipient of a 2017 Fromm Foundation Award for a new work by John Liberatore. HereNowHear references Chap. 1, iv. of Joyce's Finnegans Wake.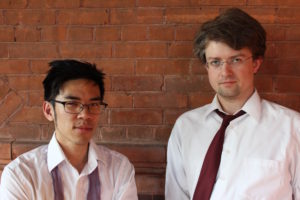 photo | Michael Small

Thomas Feng is a pianist and composer, working toward an integration of classically-trained sensitivity and an adventurous DIY spirit. He principally performs works by living composers and several works of his own. Notable engagements include collaborations with composers Eve Beglarian, Reiko Füting, Nicky Sohn, and Salina Fisher, as well as ensemble performances with Da Capo Chamber Players, Monday Evening Concerts, and Wild Up. His own compositions have been recognized by institutions such as ASCAP (Morton Gould Award), UCLA School of Music (Hugo Davise Prize), and the National Foundation for Advancement in the Arts (YoungARTS), and have been performed by Verdant Vibes, Wild Up, Palo Alto Chamber Orchestra, and the Orlando Philharmonic Orchestra. An album of original solo piano music, titled i am a tricky pear, and a "quarantine album" we have music at home, are available on Bandcamp. Thomas is also active as a music teacher, rehearsal pianist, engraver, and music editor. He recently served years on the faculty of the Precollege Division at Manhattan School of Music, teaching music theory and ear training. Thomas is currently pursuing a DMA in Performance Practice at Cornell University. He holds an MM in Contemporary Performance from the Manhattan School of Music, and a BA in Music Composition, summa cum laude, from UCLA. His teachers include Xak Bjerken, Margaret Kampmeier, Christopher Oldfather, Anthony de Mare, Mark Carlson, Sean Friar, Gloria Cheng, David Conte and Claude Monteux. More information at www.thomasfengmusic.com.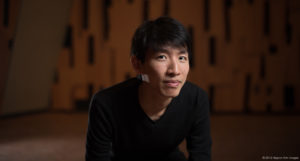 Thomas Reeves is a composer and pianist. His compositions span a variety of instrumental genres and have been performed at Carnegie Hall (New York), the Kennedy Center (Washington, D.C.), the National Portrait Gallery (London), and Richardson Auditorium (Princeton), among other venues. As a pianist, he has broad interests, with recent projects involving the Cornell Center for Historical Keyboards. He is currently pursuing a PhD at the Center for Applied Mathematics, researching probability and random matrix theory under Philippe Sosoe and is also a piano student of Xak Bjerken. He is funded by an NSF Graduate Research Fellowship. Previously, he received a bachelor's degree from Princeton University in mathematics with a certificate in musical performance, and he was a Fulbright Fellow at the Graduate University for Advanced Studies (SOKENDAI) in Japan.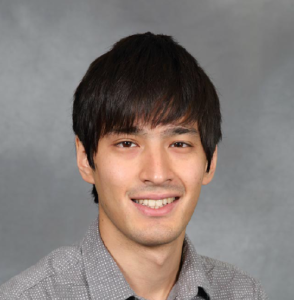 richard valitutto is a Grammy-nominated piano soloist, chamber musician, and vocal accompanist with an active performance schedule that spans the U.S. from coast to coast, as well as making international appearances abroad. Described as "a keyboard superstar" with "formidable artistry" and "a crystalline lyricism very much his own" (The New Yorker) and as a "vigorously virtuosic," "all around go-to new music specialist" (LA Times), his soloistic charisma and flexible collaborative artistry have distinguished him for his tenacity in bringing dynamic life to performances of music, both composed and improvised, in the spirit of integrated collaboration and informed understanding. His debut solo album of contemporary work premieres, nocturnes & lullabies (New Focus Recordings) was released in March 2020 to critical acclaim. richard is a founding member of the Grammy®-nominated ensemble Wild Up, as well as the new music quartet gnarwhallaby, hailed as "startlingly versatile" (NY Times) in their Carnegie Hall debut. He has collaborated with the Los Angeles Philharmonic, Martha Graham Dance Company, PBS Great Performances, Monday Evening Concerts, LA Dance Project, and Opera Omaha, among many other leading arts organizations. richard is currently a DMA candidate in Cornell University's Keyboard Studies program specializing in modern and contemporary performance practice, studying with Xak Bjerken. He holds degrees in piano performance from the California Institute of the Arts (MFA) where he studied with Vicki Ray, Vinny Golia, and Mark Menzies, and the University of Cincinnati's College-Conservatory of Music (BM, summa cum laude) where he studied with the Eugene and Elisabeth Pridonoff. www.richardvalitutto.net.
photo | Josh Lipton
As a daughter of mixed heritage, Mexican-American cellist Laura Cetilia is at home with in-betweenness, straddling the worlds of performer / composer, acoustic / electronic and traditional / experimental sound practices. Her music has been described as "unorthodox loveliness" (Boston Globe) and hailed as "alternately penetrating and atmospheric" (Sequenza 21). Her compositions have been played by ensembles such as Wet Ink, HereNowHear, tacet(i), Mivos Quartet, S.E.M. Ensemble, Splinter Reeds, Dog Star Orchestra, a.pe.ri.od.ic, Verdant Vibes, LCollective, The Furies, and violinist Erik Carlson. She has created site-specific sound installations for the Bennington Museum and Ben Ari Museum for Contemporary Art. She has curated for the performance series ctrl+alt+repeat, ars subtilior, public offering, durational concerts at RISD museum, and for the Estuary Ltd. imprint. The Grove Dictionary of American Music describes her electroacoustic duo Mem1 as a "complex cybernetic entity" that "understands its music as a feedback loop between the past and present." In the performer / composer collective Ordinary Affects she has collaborated with, commissioned and premiered works by composers such as Alvin Lucier, Christian Wolff, Michael Pisaro, Jürg Frey, Eva-Maria Houben, and Magnus Granberg. She is currently pursuing her D.M.A. in Music Composition at Cornell University and is a proud mother of one.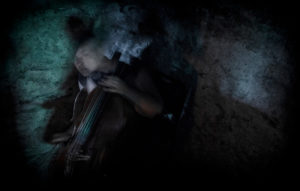 Born and raised in Tehran, Iran, Aida Shirazi is a Ph.D. student in composition and works with Pablo Ortiz. Shirazi's music is described as "well-made" and "affecting" by The New Yorker. She holds her B.A. in classical piano from Tehran University of Art (Iran), and her B.M. in music composition and theory from Bilkent University (Turkey). She studied santoor (traditional Iranian dulcimer) with Parissa Khosravi Samani. Shirazi is the winner of Diaphonia and XelmYa+, ACIMC and Bilgi New Music Festival calls for scores. Her music has been featured in MATA, Klasik Keyifler, Sesin Yolculugu, Young Composers, Young Performers festivals in the United States and Europe, and performed by Andrew McIntosh, Lucy Fitz Gibbon, Ryan McCullough, Alexa Renger, Ellen Jewett, Empyrean Ensemble, FOM (The Friends of MATA) and Bilkent Symphony Orchestra. She has attended workshops with Interface Ensemble (2013) and Yurodny Ensemble (2016). Her music for solo instruments, voice, ensemble, orchestra and electronics is often influenced by literature, language, and Iranian classical music. Shirazi has studied with composers Mika Pelo, Kurt Rohde, Yigit Aydin, Onur Turkmen, Tolga Yayalar, Hooshyar Khayam, and Mark Andre.
photo | Kiou Kalami
Ann Southam, CM, was a Canadian composer and music teacher. She was born in Winnipeg, Manitoba in 1937, and lived most of her life in Toronto. Her father, Kenneth Gordon Southam, was a great-grandson of newspaper baron William Southam. She began composing at age 15 after attending a summer music camp at the Banff School and later studied composition with Samuel Dolin at the Royal Conservatory of Music, piano with Pierre Souvairan, and electronic music with Gustav Ciamaga at the University of Toronto from 1960 to 1963. She began teaching at the Royal Conservatory of Music in 1966 and she was a founding member and first president (1980–88) of the Association of Canadian Women Composers. She was appointed a Member of the Order of Canada in 2010. Southam was also an associate composer of the Canadian Music Centre, which named its recording collection the Ann Southam Digital Audio Archive. She began a collaboration with the New Dance Group of Canada (later known as Toronto Dance Theatre) in 1967, and was awarded with the Friends of Canadian Music Award in 2001. In her will she left $14 million to the Canadian Women's Foundation.